1023 Silicone Tube Neon Addresable Pixel LED Light
IP67 Silicone Tube Neon LED Light | Addresable | Pixel | 1023 Size
Overview:
IP67 Silicone Tube Waterproof Neon LED Lights, with UCS1903 Pixels LED Strip inside, no light spots visiable,
Recommend Optional of the inside led strips:
1) WS2812B Flex led strips, 60led/m, individual addressable, 60pixels/m, 5V, 18w/m, 10mm PCB, 5m/roll
2) WS2811 Flex Digital led strips, 60led/m, addressable, 20pixels/m, 12V, 14.4w/m, 10mm PCB, 5m/roll
3) SMD5050 Flex Digital led strips, 60led/m, 1800K-6500K, 12V/24V, 14.4w/m, 10mm PCB, 5m/roll
4) RGB / RGBW Flex led strips, 60led/m, 12V/24V, 19.2w/m, 10mm PCB, 5m/roll
5) SMD2835 High Efficiency Flex Digital led strips, 120led/m, 1800K-6500K, 12V/24V, 24w/m, 10mm PCB, 5m/roll
Data sheet:
Product:
T1023 IP67 Silicone Tube Waterproof Neon LED Light with UCS1903-60led inside

Item No.:

ADY-T1023-S601024

LED:

UCS1903-SMD5050-RGB, 60led/m, 24V, 14.4w/m, 10 Pixels/m
View angle:
180°
IC Chip:
UCS1903
Input voltage:
24V
Power:
14.4

w/m

Size:
5000x10x23 (mm), 5m/roll
Features:
1). Safe Voltage: LED uses low-voltage power supply, power supply voltage is between 4-25V, according to different products, so it is a safer power supply than using high-voltage power supply, especially for public places.
2). Efficiency: Energy consumption is 80% less than that of incandescent lamps with the same light efficiency.
3). Applicability: Many size for optional, Flexible, so it can be prepared into various shapes of devices, and suitable for variable environment.
4). Stability: 100,000 hours, optical decay of 50% of the initial.
5). Response time: The response time of incandescent lamp is millisecond, and that of LED lamp is nanosecond.
6). Environmental pollution: no harmful metal mercury.
7). You can get any color which you like.
Application:
> Widely used for home decoration use, hotels, clubs, shopping malls
> Architectural decorative lighting, boutique atmosphere lighting
> Extensively applied in background lighting, concealed lighting, channel letter lighting
> Emergency & security lighting, advertisement sign lighting
> Decorative lights for holiday, event, show exhibition
> Applicable for automobile and bicycle decoration, border or contour lighting
Remark:
1) Do not use any acidic, alkaline adhesive fixing Product;
2) It is prohibited to make products with a hard object collision, friction;
3) Do not use your fingers to press LED;
4) Don't make positive and negative reversed;
5) Don't install when product is working;
6) Installation, repair and maintenance must be made by professional Person;
7) Before you use them make sure the power supply voltage to meet the requirements and wire connection correctly.
Photos show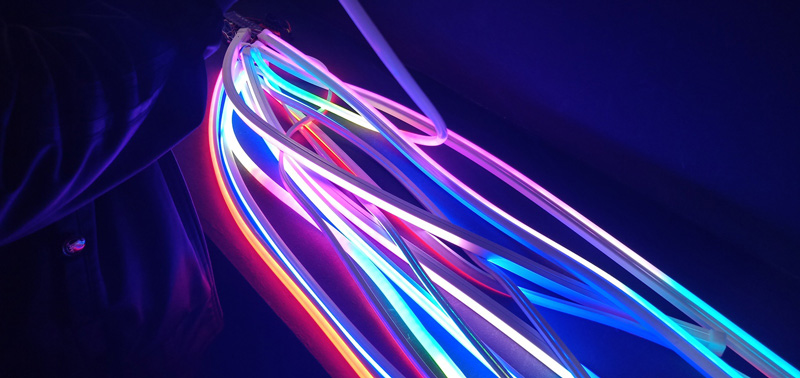 Many sizes for optional, please contact us for more details