3mm Width 4mm Pixel Pitch 250led/m APA102-2020-RGB Digital LED Strips
3mm Width 4mm Pixel Pitch 250led/m APA102-2020-RGB Digital LED Strips

Product: 3mm Width 4mm Pixel Pitch 250led/m APA102-2020-RGB Digital LED Strips
LED: APA102-RGB-2020, 125LED/pcs, 250LED/m
Power input: 5V, Max. 25w/m, (it is better to set the brightness below 50% to reduce the heat. )
PCB: 3mm width Rigid PCB, 0.80mm height,
Connection: 4 wires at both ends ( 5V+, GND, Clock and Data )
Packing: 0.5m/pcs
Controller: SP105e, K-1000C, etc…
Introduction:
APA102-2020-RGB Individual Addressable Flex Digital LED Strips is an good pixel led product, we can get 16777216 colors from each APA102 led, they have an control IC built inside the SMD2020 RGB LED; Two SPI Pin design, one is Data, the other one is Clock.
Features:
1) Addressable APA102 LED Strips;
2) 5 VDC power requirement ( recommend 4.4VDC, do not exceed 5.6VDC) – no polarity protection
3) Long life span 50,000+ hours;
4) Super bright 2020 SMD top LED, high intensity and reliability;
5) Absolutely addressable, each IC built inside a SMD2020-RGB LED;
6) APA102 has 4 Wires input and output: Data x1, Clock x1, GND x1 and 5V x1;
7) One led one cut;
8) PWM 2KHz/m, Data transmit up to 800kbps, 256 grayscale effect;
9) 1 integrated RGB LEDs per segment, Each IC control one led, individual controllable;
Order info:
Firstly, APA102-2020, 60LED/m, 60Pixels/m, DC5V, 6w/m, IP20
Secondly, APA102-2020, 100LED/m, 100Pixels/m, DC5V, 10w/m, IP20
Thirdly, APA102-2020, 200LED/m, 200Pixels/m, DC5V, 20w/m, IP20
Fouthly, APA102-2020, 250LED/m, 250Pixels/m, DC5V, 25w/m, IP20
* WTP-APA102-2020-100, 10LEDs one cut;
Diagrams: (60-100-250led/m)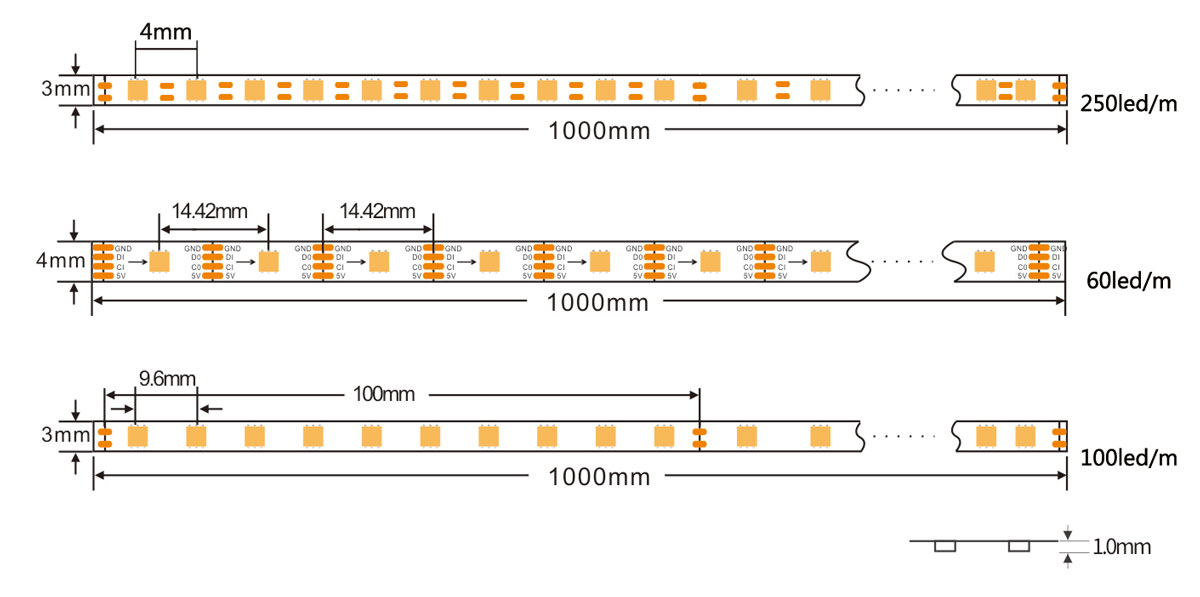 LED Strip wiring diagram: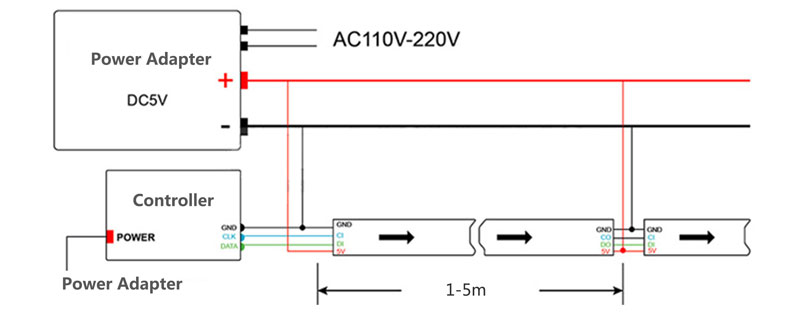 Application:
> Application in linear lighting, home/bar/Christmas decorating, showcase exhibiting.
> It is widely used for indoor decoration, signs, back lighting and led lighting, etc.
> Waterproof LED strips for furniture decorating
> The product has bright colors, high visibility and more visual appeal. Widely used in wall corridors, indoor environment decoration, product model lighting decoration, game lighting decoration, speaker lighting decoration, entertainment places, bar backlight, ceiling backlight, LED light box, LED light, aquarium products, car decoration, etc.
Photos Show:
* APA102-2020-256-8-V2 LED Chip Description:
1) APA102-2020 SMD LED is a new type of APA102 integrated led for three channels RGB color emitting.
2) It has very little size with 2.0mm*2.0*0.75mm, which has much more advantage for the smaller than 5050 led with 5.0*5.0mm. many new applications will be available for the tiny size.
3) APA102 2020 also use the APA102 as the driver IC to control the color dimming, Also high brightness too.
4) It can be widely used in apa102 2020 digital rgb led strips, apa102 2020 dotstar, apa102 led pixels, and full color led display.
5) Good thermal dissipation & optical uniformity
6) RoHS2.0 Compliant
7) Preconditioning: accelerate to JEDEC level 3
8) Serial data transmission signal by (DATA CLK) two line
9) ESD level 2kV(HBM)
Related: